This is an archived article and the information in the article may be outdated. Please look at the time stamp on the story to see when it was last updated.
SAN FRANCISCO — A San Francisco social media maven and former political consultant who was wanted on suspicion of possessing explosives has been taken into custody after a three-day manhunt.
Federal agents and the San Francisco police said they captured Ryan Kelly Chamberlain II, 42, on Monday afternoon shortly after announcing that they had found his car near Crissy Field, just south of the Golden Gate Bridge.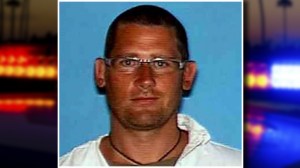 Though Chamberlain was considered armed and dangerous, FBI spokesman Peter Lee said Monday that he did not seem to pose an immediate threat to public safety.
"Anyone who has the means, methods and access to make a bomb should be considered armed and dangerous," Lee said before the arrest. "That is the reason why we want to bring him in safely soon."
Multiple agencies, including hazardous materials crews, searched Chamberlain's apartment Saturday in San Francisco's Russian Hill neighborhood, blocking off the street to vehicle and pedestrian traffic for much of the day.
Lee gave no further details about the nature of the investigation, and the affidavit and search warrant used to enter Chamberlain's home remained under seal.
Brooke Wentz, his boss at a music rights consultancy group, said Chamberlain last contacted her Friday to remind her to deposit his paycheck in a new bank account. The conversation was uneventful and Wentz said she was "tremendously dumbfounded" by the news that the contractor she had hired to handle her company's social media accounts was wanted by the FBI.
"He's a nice guy," Wentz said.
She said it didn't seem like Chamberlain was staying in his apartment. When she mailed him his paycheck in April, he told her he would have to go to the apartment to pick it up.