This is an archived article and the information in the article may be outdated. Please look at the time stamp on the story to see when it was last updated.
SAN DIEGO — The first all-solar apartment complex in San Diego County is getting ready to welcome its first tenants.   All 114 units at Solterra EcoLuxury Apartments in Scripps Ranch are powered by the sun.
"It's very unique," said Mike Neal, CEO of developer H.G. Fenton.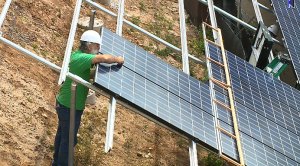 He said the units, located at the intersection of Scripps Ranch Boulevard and Erma Road, offer energy efficient appliances and give residents more control.
"You`ll be able to use your phone to adjust your thermostat from wherever you are," he said.
Another unique feature is the fact that each unit will offer an iPad like device that can inform tenants in real time about their energy usage allowing them to eliminate their electric bill
"You`ll be able to make adjustments, turn my refrigerator up, not do the load of wash right now, maybe combine clothes," Neal said.  "So you can manage what you`re getting from the solar power to what you`re using and not have a bill."
Each unit will also have a garage pre-wired to allow residents to plug in their electric vehicle.
SDG&E representatives said, to their knowledge, this is the first complex in the country to bring together such energy saving tools in this capacity.  The complex also features a salt-water pool and spa as well a 3,200 square foot club room with a restaurant style bar and kitchen.
The units cost anywhere from about $1,500 to around $2,200 and nearly half of them have tenants signed up.
"The comments have been, 'We like the combination of luxury.  We like the combination of the eco-friendly benefits and we can't wait to be a part of something that's a first,'" said Neal of the tenants who have already signed on.
Construction is expected to be completed soon with the first residents scheduled to move in May 1.