This is an archived article and the information in the article may be outdated. Please look at the time stamp on the story to see when it was last updated.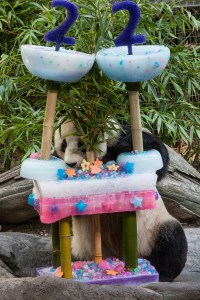 SAN DIEGO – The San Diego Zoo celebrated the 22nd birthday of giant panda Bai Yun, the mother of six panda cubs.

Bai Yun will be presented a five-foot-tall, 215-pound ice cake right before the park opens to the public. The zoo said the cake, which took four weeks to create, is made of ice, bamboo, fruit and icing of pureed yam.

The panda's latest offspring, 1-year-old Xiao Liwu, is also scheduled to take part in the event. Bai Yun was nearly 21 years old when "Mr. Wu" was born, making her the oldest giant panda known to give birth.
The zoo frequently conducts so-called "enrichment" activities to keep the animals stimulated and so they can display their natural behaviors.
The giant pandas at the zoo are on loan from the Chinese government, which has the option of calling them back to their native country after they reach age 3. No request has been made regarding Yun Zi.
The zoo is one of four in the United States that participate in the loan program. For a hefty fee to China, the zoos get to study the critically endangered species up close and help with breeding. At the same time, the pandas make for highly popular attractions.
Only around 1,600 pandas are believed to be left in the wild in China, in part because of deforestation and the expansion of farming. The bamboo-eating panda has lost much of its forest habitat in the mountainous areas of southwest China to roads and railroads, according to the nonprofit World Wildlife Fund.