This is an archived article and the information in the article may be outdated. Please look at the time stamp on the story to see when it was last updated.
SAN DIEGO – This Saturday, one day after Donald Trump will be sworn in as the nation's 45th president, groups all over the country will gather to march in different cities, including in San Diego and San Marcos.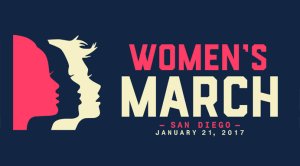 The largest is expected to take place in Washington D.C., where organizers anticipate 200,000 people could attend the Women's March on Washington.
Organizers of the march say they want to greet Trump's presidency by making a statement.
"The Women's March on Washington will send a bold message to our new government on their first day in office, and to the world that women's rights are human rights," the march's mission statement reads. "We stand together, recognizing that defending the most marginalized among us is defending all of us."
Anyone interested in the issue, not just women, is welcome to attend the nationwide marches, organizers say.
As of Thursday morning, 19,000 people have RSVP'd they will be going to the one in San Diego, with another 16,000 expressing interest in the march, according to a Facebook page set up for the San Diego event.  
Below are the details of the San Diego Women's March:
Where is it?
Participants will meet at San Diego Civic Center Plaza at 1200 Third Avenue at 9 a.m. and will start marching at 10 a.m.
The marches will proceed on Broadway to Harbor Drive and end in the front of the County Administration Building.
North County March
Another march is scheduled in San Marcos for Saturday. Participants will gather at 11 a.m. outside the Civic Center and march to Palomar College.
Organizer's Mission
"We, San Diego Women's March, are peacefully marching in San Diego in solidarity with the Women's March in DC. We are dedicated to a free and open society. Together we stand united in our respect for all people and we resist the marginalization of anyone. As a diverse, inclusive community of compassionate people, we seek to strengthen and continue our commitment to work for the protection of women's rights. We stand firm in agreement that women's rights are human rights."