This is an archived article and the information in the article may be outdated. Please look at the time stamp on the story to see when it was last updated.
SAN DIEGO – A San Diego woman couldn't hold back tears after seeing her missing dog's face for the first time in seven years.
Kelly Accettola adopted Bemis as a puppy while living in Virginia. She had him for two years before he went missing, FOX 46 reported.
"He vanished without a trace. Years after he went missing I would drive around the neighborhoods looking for him," she said.
Accettola gave up hope after four years and her husband's job caused their family to move to San Diego.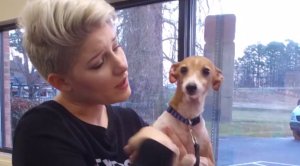 Just last week – three years into living in San Diego – Accettola received a letter from AKC Reunite. They said someone found Bemis.
Tracy Tucker found Bemis in Gastonia, North Carolina on New Years Day.
"I was on my way to work and he was on the side of the road walking," Tucker said. "I felt sorry for him, opened the car door and he just jumped straight in and rode around with me at work."
She told coworkers about the greyhound. They took the dog to a vet and checked his microchip. Within seconds of scanning him, they had Accettola's name and contact information.
Accettola flew to Virginia where she was reunited with Bemis.
"I can't believe this! Thank you so much!"