This is an archived article and the information in the article may be outdated. Please look at the time stamp on the story to see when it was last updated.
SAN DIEGO — A San Diego-based warship arrived off the west coast of Malaysia Friday to search for the missing Malaysian Airlines Boeing 777, a Navy spokesman said.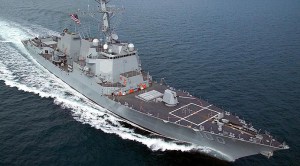 The guided-missile destroyer USS Kidd arrived in the northwestern part of the Strait of Malacca today. Details of its search for the missing plane in the shallow, 500-mile stretch of water between the Malay Peninsula and Sumatra were not immediately available, said Lt. David Levy of the Navy's Seventh Fleet.
Levy said the search will be beefed up Saturday with the arrival of a long-range reconnaissance aircraft, joining a Navy plane already hunting for Flight MH370, which disappeared Saturday.
The incident triggered multiple investigations by several nations, including China and the United States. Conflicting information also contributed to confusion over the baffling disappearance.
Other searches were taking place in the Indian Ocean, based on data picked up from the airliner four or five hours after the last transponder signal was received. Efforts also continued in the Bay of Thailand, east of Malaysia and south of Vietnam.
The airliner went missing about one hour into its Saturday flight from Kuala Lumpur to Beijing. The jumbo jet carried 239 people, most of them Chinese.
Another guided-missile destroyer that is home-ported in San Diego, the USS Pinckney, has been called off the airliner hunt and is headed for Singapore for scheduled repairs, according to the Seventh Fleet.
The destroyers each carry a crew of about 300, and they deployed from San Diego on Jan. 7.