This is an archived article and the information in the article may be outdated. Please look at the time stamp on the story to see when it was last updated.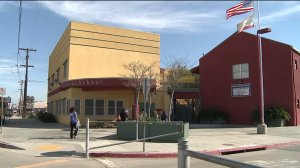 SAN DIEGO — The San Diego Unified School District Board of Education voted 4-1 Tuesday night to adopt a $2.5 billion budget for the 2013-14 school year and unanimously approved a plan to develop longer-term budgets in the future.
Board President John Lee Evans said as state funding improves under voter-approved Proposition 30, which includes a $30 million boost for the district, budget plans could be developed three years at a time instead of annually.
"While adjustments will have to be made each year prior to budget adoption, a three-year plan will bring stability to our schools and allow our staff to focus more on our most important bottom line, which is student achievement," Evans said.
District officials planned to offset an $88 million deficit for the 2013-14 school year in part with real estate sales. A portion of the projected $97.7 million real estate proceeds will be placed in a "school stabilization fund" and used to cover structural deficits until the 2016-17 year when only ongoing revenue would go toward ongoing expenditures.
Another $27.8 million in saving from employee attrition is projected, according to the district.
The board committed to using an "attrition model" during the budgeting process, and not laying off employees to make ends meet.
Bill Freeman, president of the San Diego Education Association, the union representing the district's teachers, said that by not re-staffing some of the 300 positions his organization lost annually through attrition, the district could eventually get to a point where layoffs would be unnecessary.
"If we would manage attrition carefully every year, we could prevent from ever having to lay employees off," Freeman said. "But we haven't done that."
Teachers will receive a 2 percent pay raise over the current school year, while staff will receive a 3 percent increase, according to the spending plan.
Total spending next year is projected to be around $600 million more than the current year, due primarily to a bond issuance from voter-approved Proposition Z. The unrestricted general fund, which pays for basic services, is set to be $729 million, about $33 million more than this year.
The district's budget assumes Gov. Jerry Brown's local control funding formula, which would fund districts at a base level with increases for English learners, students from low-income families and those in foster care, would not be implemented next year.
The district will revise its budget after Brown signs the state budget, according to district officials.
Included with the budget vote was a resolution stating it will maintain fiscal solvency for the two subsequent years.
According to the resolution, the board will come up with solutions to fill a projected $101.35 million budget gap in 2014-15 fiscal year, and a $53.98 million shortfall for the 2015-16 fiscal year.