This is an archived article and the information in the article may be outdated. Please look at the time stamp on the story to see when it was last updated.
SAN DIEGO – As city leaders prepare to discuss medical marijuana during their next meeting, one California business said it has the solution.
San Diego City Council will be talking medical marijuana during their March 25 meeting after Mayor Bob Filner requested they discuss the issue in light of legal confusion surrounding the issue.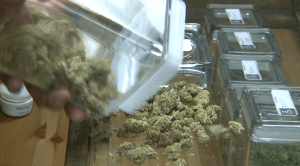 "We have to get a law in place so that all of this is regularized and that people know what the expectations are and what the rules are," Filner said.
Dr. Bruce Bedrick said his Med-Box might be the remedy San Diego could use.
The Med-Box is a computerized, biometrically controlled dispensing system that resembles a high-tech vending machine.
"Our technology is not a vending machine that is sitting out on the street corner," Med-Box CEO Dr. Bruce Bedrick said. "These are 800-pound, armor coated machines that are sitting in dispensaries."
Patients bring their prescriptions and their ID to the dispensaries, where they are given another card, Bedrick said.
On future visits they swipe the card and scan their finger print, a staff member pushes a button and the marijuana is dispensed.
"In our case, there's no free-wheeling marijuana around. There's no marijuana in big glass jars that's unaccounted for," Bedrick said.
"This type of technology really helps regulate the industry," Bedrick added. "The software and the way the system is set up can limit the actual dispensing to patients."
The idea is getting mixed reviews in communities like Ocean Beach.
"I think it's a good cause, but bad idea," said Mike Depolo, who works in the area.
"Everything else has vending machines, it's just medicine so, I support it," Mia Buckland said during her lunch break.
It appears city leaders aren't sold on the idea.
"[Vending machines] will not be part of any ordinance. There will be no vending machines of medical marijuana in San Diego," he said.
"[We need] more access, but more restrictions," Filner said. "[The ordinance] will be based on compassionate distribution to people who have doctor's prescriptions."