This is an archived article and the information in the article may be outdated. Please look at the time stamp on the story to see when it was last updated.
SAN DIEGO — The San Diego Bicycle Coalition and other agencies including SANDAG have plans to turn several streets, like Meade Avenue in North Park, into bicycle corridors.
The plans for the corridors would include wider bicycle lanes and fewer cars.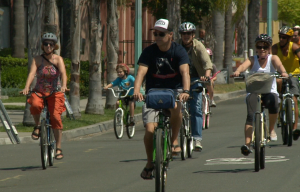 "The urban areas absolutely need them, neighborhoods that have most density and intensity have most potential for people to ride," said Everett Hauser with the San Diego Bicycle Coalition. "The more protective bike ways will encourage more people who aren't currently riding reducing traffic and making areas much safer."
As a way to inform the public, an open house was staged at Franklin Elementary in North Park featuring informational displays and drawings. Similar events are planned in the coming months.
There is money already allocated to these corridors — construction is expected to begin in 2015. Down the road, and by 2020, $200 million could be invested into more of these super bike lanes.