This is an archived article and the information in the article may be outdated. Please look at the time stamp on the story to see when it was last updated.
SPRING VALLEY, Calif. – For the first time, a San Diego surfer shared his story of surviving a shark attack Monday.
Three weeks ago, Ryan Boarman was on a surf trip in Bali and had gone out for an early morning session.
"I was sitting there kind of waiting for a wave. That's when he said out of nowhere, I felt something obviously really sharp and painful happen to me," Boarman said. "The shark came up from behind me and basically just grabbed my right elbow."
The shark bumped him and dragged him under water, he said.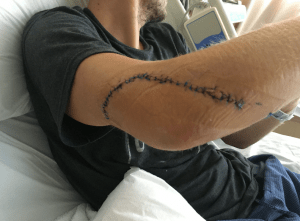 "I saw something really big kind of swim away and I saw the fin go under water," said Ryan. "I knew right away it was a shark bite."
It was a bull shark; Boarman estimated about 6 to 7 feet long.
"When it happened, I just turned around and started paddling as fast as I could to the beach," said Boarman. It was at the moment, luck was on Ryan's side.
"The wave comes right behind me, the perfect wave," said Ryan. "I was paddling and paddling, somehow I was able to catch the wave."
Injured and bleeding, he managed to surf to shore.
"I remember standing up and just grabbing my arm and squeezing it because it was bleeding pretty bad. I got to the sand and just passed out. I blacked out," said Boarman.
A friend immediately bandaged him up and he was taken to a clinic.
"They stitched up the wound, without any pain medicine," he said.
From the clinic, Boarman went to two more hospitals before he was medevac'd to Singapore.
"I kind of assumed my arm was going to be gone, I almost accepted it in my head," said Boarman.
After a third surgery in Singapore, the surgeon told him his arm was saved.
"I was just so excited, knowing I would have both my arms," said Boarman.
Ryan's right arm will take at least six more weeks to heal, and then he'll have to endure six months to a year of physical therapy.
When it's healed, he said sharks or no sharks; he's getting back in the water.
"Definitely," said Boarman. "It's something I love and I've done forever."
"It's hard to believe, I'm even here talking about this.  I have two arms and that's amazing," said Boarman.
For now, Boarman's focus is on recovery.  His parents are trying to recover from his medical bills, the medical flight to Singapore cost $35,000, a cost insurance likely won't cover.  If you would like to help, the family has set up a fundraising page.