This is an archived article and the information in the article may be outdated. Please look at the time stamp on the story to see when it was last updated.
SAN DIEGO – Despite a court ruling that struck down California's concealed weapons statute, the San Diego County Sheriff's Department will continue reviewing applications for permits.
The ruling Thursday by a three-judge panel of the 9th Circuit Court of Appeals found that the statute, as applied by the San Diego department, was overly restrictive and violated the 2nd Amendment.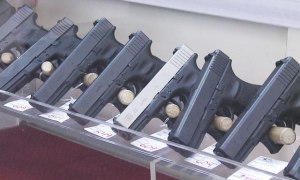 But the ruling, which overturned a ruling in federal court in San Diego, did not impose an injunction. The ruling is expected to be appealed to the full 12-member court and, possibly, to the U.S. Supreme Court.
The ruling "has not yet changed existing state law," the sheriff's department noted in a statement Friday.
Applications for permits will continue to be processed. In cases where the applicant can demonstrate a valid reason for being allowed to carry a concealed weapon, the permit will be issued, the department said.
Those applications that do not meet that standard will not be denied but "held in abeyance until the legal issues are resolved."
The review process can take several months, including an interview, state and local background checks, and completion of a firearms safety course.
"Due to the anticipated increased volume of requests, this process may take longer than usual," the department said.
The 2-1 ruling brought differing reactions in San Diego. The case was based on the rejection of a permit application by a traveling journalist, a part-time resident of the county.
Dianne Jacob, chairwoman of the county Board of Supervisors, said she supports the ruling. Tony Krvaric, chairman of the local Republican Party, tweeted out his support, "Sanity prevails!"
A different view came from San Diego Police Chief Bill Lansdowne.
Read more of Tony Perry's story at latimes.com.