This is an archived article and the information in the article may be outdated. Please look at the time stamp on the story to see when it was last updated.
SAN DIEGO – The Surf Channel released it's new list of "Best Surf Colleges" and San Diego has three schools that made the cut.
"I'd be lying if I said 'the fact that I surf and the fact that San Diego has such great waves, didn't affect my choice to come to UC San Diego,'" surf team co-captain Shaun Burrell said.
University of California, San Diego is known for revolutionary scientific breakthroughs, rigorous academic standards and a faculty that includes Nobel laureates, field medalists and academy award winners. However, surfers like Burrell said catching waves off of Scripps Pier is what it's all about.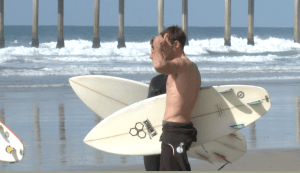 Others agree, the UCSD grabbed the No. 2 spot on the Surf Channel's list.  UCSD edged out UC Santa Barbara and fell short to UC Santa Cruz.
Point Loma Nazarene and Cal State San Marcos also landed in the top 10.
UCSD got its ranking because of the school's proximity to great waves and it's nationally recognized surf team with six national titles.
That was the perfect blend of academics and extra circulars for Burrell, who is a former pro surfer and a senior political science major.
"It's just awesome to be surrounded by such smart, brilliant young people who just happen to surf," Burrell said.
Members of the UCSD surf team were surprised it didn't land at No. 1, but they're hoping the high ranking gives prospective students a better picture of what UCSD has to offer.
"The stereotype is a little bit accurate at times, we do have a surf team member who will bring a textbook to a party that we'll throw," surf team member and senior Kokoro Tomatsuri said. "Being ranked as a top school for surfing will change a lot of attitudes towards the school."