This is an archived article and the information in the article may be outdated. Please look at the time stamp on the story to see when it was last updated.
SAN DIEGO — Standardized test scores for students in San Diego County and around the state dipped just slightly compared with last year, the state Department of Education announced Thursday.
Of the more than 351,000 students countywide who took the examinations in the spring, 62.8 percent scored advanced or proficient in English. Last year, 63 percent scored in those categories.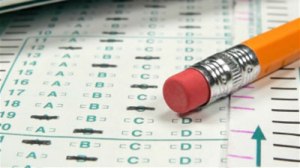 In mathematics, 55 percent scored advanced or proficient, compared to 55.3 percent last year.
In the region's largest district, San Diego Unified, 64.6 percent of the 63,000-plus tested were advanced or proficient in English. Last year, 61.3 scored in the top categories. In mathematics, 52.1 percent were advanced or proficient, compared to 52.4 percent last year.
Almost 4.7 million students around California took the tests during the last school year.
In English, 56.4 percent were advanced or proficient, down from 57.2 percent last year. In math, 51.2 percent were advanced or proficient, compared to 51.5 percent in 2012.
"You can't judge us alone by our test scores, but comparing us to other, similar large districts certainly shows the hard work done by everyone at San Diego Unified," Superintendent Cindy Marten said. "These scores will help us focus our work on creating quality schools in every neighborhood."
State Superintendent of Public Instruction Tom Torlakson blamed the slip on continued budget cuts for education and a switch to new standards known as "Common Core," which are designed to align education goals nationwide.
"As you would expect for a school system in transition, results varied from grade to grade, subject to subject and school to school, but the big picture is one of remarkable resilience despite the challenges," Torlakson said.
"While we all want to see California's progress continue, these results show that in the midst of change and uncertainty, teachers and schools kept their focus on students and learning," he said. "That's a testament to the depth of their commitment to their students and the future of our state."
Even with the dip, the results still reflect a marked improvement over a decade ago, when only about one-third of students were scoring advanced or proficient in tests, he said.
John Lee Evans, the Board of Education president, said the San Diego Unified scores reflected the leveling off seen around the state.
"Despite draconian budget cuts over the last six years, our teachers and students have remained focused on teaching and learning," Evans said. "Now it appears those billions of dollars in budget cuts are starting to catch up with us."
Both at the district and state levels, the achievement gap persisted between white and Asian students compared with black and Hispanic students.
Meyer said English scores among Hispanic students rose while those of other groups fell. All of the gains and losses in test score results by ethnic groups were less than 2 percent, she said.
According to Torlakson, ethnic groups statewide also increased or decreased their scores by a point or two.