This is an archived article and the information in the article may be outdated. Please look at the time stamp on the story to see when it was last updated.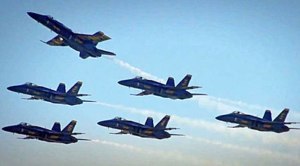 SAN DIEGO — With air shows being canceled across the country, San Diego City Councilwoman Lorie Zapf is scheduled today to introduce a resolution to call on the Defense Department to allow the annual Miramar Air Show to go on as scheduled this fall.
Zapf aide Job Nelson wrote in a report that dozens of air shows around the country have been scrubbed because of budget cuts, and Marine Corps Air Station Miramar has not received permission from the Pentagon to host the event. He said the air show attracts about a half-million people over its three days and is linked to $17 million in direct and indirect spending.
Zapf said Defense Secretary Chuck Hagel was likely to decide soon whether the 58th annual show at MCAS Miramar will go on.
"Be it resolved, that the council of the City of San Diego strongly supports the MCAS Miramar Air Show and encourages the Secretary of Defense to take all necessary actions to restore funding to allow the 58th annual Miramar Air Show to take place on its scheduled dates of October 4, 2013 through October 6, 2013," Zapf wrote in a motion to be considered by the City Council.
A pending Senate version of the 2014 Defense Authorization Act includes language that requires the Pentagon to consider resuming support of air shows.