This is an archived article and the information in the article may be outdated. Please look at the time stamp on the story to see when it was last updated.
SAN DIEGO —  The National Weather service warned Wednesday the "largest rain event" in Southern California in three years is headed our way.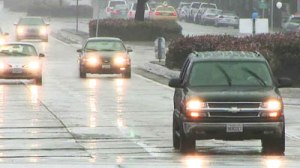 The powerful pacific storm will strike San Diego Thursday and potentially last through the weekend, according to forecasters.
Mission Valley was underwater back in 2011, during a similar storm.  NWS said the same conditions could occur during this storm.
"The new phrase in turnaround and don't drown.  It sounds ridiculous in San Diego, but at the same time let's remember to make sure we don't go across any flowing water or into deep water," said Bill Harris of the San Diego Transportation and Storm Water Department.
City fire stations and lifeguard stations have free sandbags available for residents who live in flood zones.  Residents are allowed 10 bags per person and will be available at the following locations:
Fire Station 15 – 4711 Voltaire Street in Ocean Beach
Fire Station 20 – 3305 Kemper Street in the Sports Arena area
Fire Station 21 – 750 Grand Avenue in Pacific Beach
Fire Station 28 – 3880 Kearny Villa Road in the Kearny Mesa/Montgomery Field area
Fire Station 29 – 198 West San Ysidro Blvd in San Ysidro
Fire Station 33 – 16966 Bernardo Center Drive in Rancho Bernardo
Fire Station 37 – 11640 Spring Canyon Road in Scripps Ranch
Fire Station 39 – 4949 La Cuenta Drive in Tierrasanta
Fire Station 40 –13393 Salmon River Road in Rancho Penasquitos
Fire Station 46 – 14456 Lazanja Drive in Santaluz
Fire Station 47 – 6041 Edgewood Bend Court in Pacific Highlands
Lifeguard Stations in Ocean Beach, Mission Beach, La Jolla Shores and Pacific Beach