This is an archived article and the information in the article may be outdated. Please look at the time stamp on the story to see when it was last updated.
SAN DIEGO – With the release of surveillance video and pictures from the Boston Marathon bombing aiding in the search for suspects, some wonder how San Diego monitors crime.
"You just never know what aspect or angle was captured by somebody else's cell phone or video camera that could break the case wide open where it can be solved," said San Diego Police Department Lt. Kevin Mayer.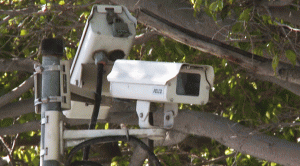 How well is San Diego covered by surveillance?  Police have fixed and mobile cameras deployed all over the city, Mayer said.  The number of cameras or where they are located is not information given to the public.
The department is trying to cover more ground by tapping into the surveillance systems of private businesses.  It's a program called Operation Secure San Diego.
"The goal is for officers – as they're driving to a crime – to be able to tap into that business' camera and see a live feed of the crime occurring which will help our officers and their tactics to be able to address that crime," said Mayer.
The Hotel Indigo downtown was the first business to sign up for the program.
"It was a great way for us to connect with the police department and local community and just show our commitment to San Diego," said Pat McTigue, the hotel's director of marketing.
Many folks have mixed feelings about more surveillance and, possibly, more eyes on them.
"I think in an emergency anything that's available is certainly a good thing.  Day to day, as a general rule, makes me a little nervous.  I think it does most people," said downtown resident Aleana Lamont.