This is an archived article and the information in the article may be outdated. Please look at the time stamp on the story to see when it was last updated.
SAN DIEGO – San Diego police Chief William Lansdowne made a pitch Wednesday for the City Council to authorize the purchase of cameras that record the interaction of officers and the public in order to reduce incidents of racial profiling.
The chief's proposal came at  a meeting of the council's Public Safety and Livable Neighborhoods Committee, where dozens of residents called out San Diego Police Department's top brass over a lapse in their policy when it comes racial profiling.
During a packed meeting, dozens of people took to the podium with various racial profiling claims by San Diego police officers. The attendees outlined their experiences of being pulled over by officers and immediately questioned about their probation status, gang connections and tattoos.
"When I'm dressed like this, they don't handcuff me," said one African American man wearing a business suit.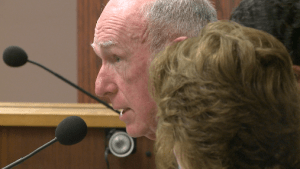 "As a college graduate and African American woman, it's humiliating to be stopped and questioned," said another speaker.
District 4 City Councilwoman Myrtle Cole invited SDPD Chief William Lansdowne to address a recent study that found the department had lapsed in its collection of data relating to officers targeting minorities during traffic stops.
"[Our officers] train to make sure we do things right," said Lansdowne. "We have checks and balances, but there's always going to be disagreement in public safety."
When Lansdowne was finished with his presentation, Cole held firm that the dozens of people in the room needed to be heard and addressed.
"See this turnout today? They believe racial profiling continues to be a sensitive issue," Cole said.
Barber shop owner and community activist Mario Lewis said not only has he been the victim of racial profiling, but he sees it every day in southeast San Diego near his business.
"Instead of asking me for my license and registration, [officers] asked me if I was on probation or parole," Lewis said.  "Those are the very first things they asked me before asking for my license."
San Diego once was a nationwide leader for tracking data by officers on patrol and the reasons they pull people over. According to a recent report by VoiceofSanDiego.org, San Diego officers stopped jotting down the data until Lansdowne ordered a resumption in October. Most big city departments record racial information during traffic stops.
The website reported that data collection increased after the chief took action.
While top SDPD officials conceded that data shows Latinos and blacks are stopped more frequently than Asians and whites, they denied a systematic pattern of bias in vehicle stops or searches.
Lansdowne said it's been 10 years since the department looked at the issue, but he believed the solution lies in technology. He made a pitch for the City Council to authorize the purchase of cameras that record the interaction of officers and the public in order to reduce incidents of racial profiling.
Lansdowne said the small cameras can be worn on uniforms and record both video and audio.
"The police officers are very committed to it," Lansdowne said. "They're excited about the cameras. They think that they serve a purpose both for the community and for the officers themselves."
He recommended the purchase of 100 of the devices, with a price tag of $165,000 to $200,000 to use in a test phase. Eventually, the SDPD will need around 900 of the cameras — and managing the devices will cost about $2 million annually, he said.
The department is now collecting data again and will meet with the City Council in April to see what the data reveals.