This is an archived article and the information in the article may be outdated. Please look at the time stamp on the story to see when it was last updated.
SAN DIEGO – In no small numbers, San Diegans are stepping up to help victims of massive tornadoes in Oklahoma.
"We clothes blanket's water," said Diana Noshang.
Noschang and her friend Melanie Voss are collecting donations to send to the Midwest.
"Our military wives have came, collected and brought everything over," said Voss.
From diapers, to blankets to food, donations cover Noschang's drive-way.   It was an effort sparked by a simple Facebook post between Diana and Melanie.
"My best friend is from there," said Noschang.  "There's so many people in need."
"It's home.  To see my family and friends there, you just want to help," said Voss.
Military wives are not alone.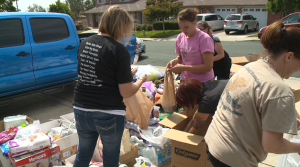 Across town at the headquarters of Urban Search and Rescue, members of California's Task Force 8 are loading up.
"Sledgehammers, there's equipment for cutting concrete, for breaking concrete," said Chris Webber, Battalion Chief and Project Manager.
A total of 14 pallets and 80 task force members are on stand-by.   They are ready to roll as the unit inches closer to the top of the national rotation list.
"So out of 28 teams across the nation, we would be the 6th or 9th team to go," said Webber.
Across town at the San Diego chapter of the American Red Cross, one volunteer is already headed to headquarters.
"They're going to help with the senior level management team get things organized," said Andy McKellar, Disaster Services Director.
The organization will depend on the information gathered from the state of the art operations center.
"This red dot shows where all of our shelters are," said Laura Horner as she showed Fox 5 the map detailing the disaster zone.  "We can monitor where our open shelters are and what we're doing in Oklahoma."
Bag after bag and box after box, military wives continue to fill Noschang's driveway.
"This is just from the last few hours, it's been like every ten minutes," said Noschang.
Now all they need, is help getting it there.
"They're in such need and they need it now," said Voss through tears.
"We can gather this all day long getting it there is the issue.  I would love for some help to get this stuff shipped over to Oklahoma.