This is an archived article and the information in the article may be outdated. Please look at the time stamp on the story to see when it was last updated.
WASHINGTON — Sen. Dianne Feinstein of California on Sunday joined a growing list of Democrats calling on San Diego Mayor Bob Filner to resign due to allegations that he has sexually harassed women, intensifying the pressure on him to step down.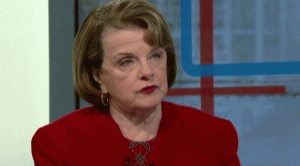 "I don't think that somebody who is lacking a moral compass really sets a role model or really will provide the kind of leadership that San Diegans want," Feinstein, a former mayor of San Francisco, said on CNN's "State of the Union."
"I suspect there will be recalls, and the people will judge,'' she said. "I think he should make it easier and resign."
Filner, a Democrat, has rejected calls to resign. H said Friday that he was entering therapy for two weeks to learn how to behave better.