This is an archived article and the information in the article may be outdated. Please look at the time stamp on the story to see when it was last updated.
SAN DIEGO – You don't often hear of adults being adopted, but that's exactly what's happening to Mission Valley resident Maurice Griffin at age 32.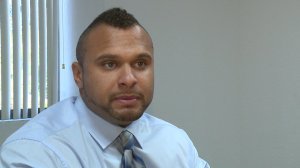 Born in San Francisco and put up for adoption at the age of three – Griffin was placed in the foster care of Charles and Lisa Harris, along with their two biological sons.  Griffin said it was a very loving home, but one day he made an unusual request.
"I wanted to be treated like a real son.  Their sons got spanked and I didn't," said Griffin.
He said his request backfired when he told his social worker.
"I told her they were going to be spanking me. She told her superiors and her superiors told her I had to be taken out," he said.
Griffin said two weeks later – and two months before he was to be adopted – he met with social workers who packed his things, put him in a car and took him away – without ever having the chance to say goodbye to the family he spent 10 years with.
He recalled the toll it took on him and his foster parents, who were left no choice but to give him up.
"They were threatened. They were going to have their own children taken away from them," Griffin said, holding back tears.
For the next three years, Griffin bounced from foster home to foster home – more than a dozen of them – never fitting in and never wanting to.
"Basically, in my young mind, I had decided that if I acted out everywhere, they would put me back with my family," said Griffin.
But that never happened. Griffin eventually went to college and then moved to San Diego for work.
About six years ago, Lisa Harris found Griffin through social media and he called her.
"She answered the phone and said 'hi baby.'  I held onto her voice for so long," he said. "I told her I had to call her back.  I couldn't talk – very emotional for me."
Griffin learned his foster father passed away. He and his foster mother met up and after years of frequent visits, Griffin told her he still wanted to be adopted and filed the paperwork.
"I filed on Valentine's Day, because I wanted her to know she was my valentine," he said.
Griffin will be legally adopted by his former foster mother Friday, March 15 at San Diego Juvenile Court.