This is an archived article and the information in the article may be outdated. Please look at the time stamp on the story to see when it was last updated.
SAN DIEGO - Don Dodson grew up in Point Loma, his family going back generations in San Diego.  He grew up dreaming of becoming a music teacher.  Then, the Vietnam War happened and he was drafted into the U.S. Army.
"One of the hardest memories of my life, looking out the window leaving Lindbergh Field and looking out. We went over my house and my high school and it dawned on me then that this could be the last time I see this stuff," said Dodson.
He arrived in Vietnam as an Army bandsman, trained in combat.
"I'm an upper-middle-class white kid from suburban San Diego. Violence was not part of my scheme of things," said Dodson.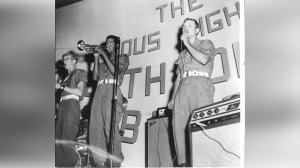 Dodson was a musician with a rifle, tasked with two missions – to entertain troops and provide security.  He played the oboe as part of the Army's 4th Infantry Division Band, known as the "Famous Fighting Fourth." Their music was heard across Vietnam as they traveled from base to base.  At one point, they even made music history themselves.
"He's listening to 'Does Anybody Really Know What Time It Is' and he's transcribing, taking what we call dictation in music...and he's orchestrating that song for our rock band...so I think we were the first live performance of Chicago in Vietnam in 1969," said Dodson.
Dodson said he had to always be vigilant, even when performing.  He recalls carrying both his oboe and rifle, describing one Christmas concert that was cut short because they learned the Vietcong were getting ready to attack.
When they weren't performing, they stood guard at night.  And it was in the darkness, where he bonded with an unexpected friend.
"We had a mascot, war dog...he was an official mascot, he had a dog tag and I had to take him to the vet once he adopted me," said Dodson.
The two of them inseparable until the day he left Vietnam.
Dodson returned to the U.S. during the height of the anti-war protests.  He expected to be taunted.  Instead, he was forever touched by a stranger's kindness on his way home to San Diego.
"'You just get back soldier?' And I said yes sir.  'You need to catch that flight?' Yes sir. He said, 'you get some sleep.' He was an older guy. he'd been there -- maybe Korean, maybe World War II.  He said, 'I'll make sure you're on that plane.'  And I woke up and sure enough here comes this guy and I knew I'm going home man, I'm going home," Dodson said tearfully.
As an Army bandsman, Dodson knew he wasn't in the same Vietnam as the warriors.  Still, he came back a changed man with recurring nightmares of being drafted again.
"I got out of the Army on a Tuesday in February 1971 and I was sitting at San Diego City College at noon the next day," Dodson said. "I had this almost like vertigo and thought I was going to wake up and be in my rack. I didn't know I had adjustment problems and for 26 years I tried to keep it buried."
And he buried it in books, excelling in his studies, becoming a safety engineer with a master's degree in business.
While Dodson never did become the music teacher he dreamt of, music served him well when he needed it the most in Vietnam.
Don Dodson now lives in La Mesa with his wife and two daughters.  He's an active volunteer and still plays in local symphony orchestras and bands.