This is an archived article and the information in the article may be outdated. Please look at the time stamp on the story to see when it was last updated.
SAN DIEGO - A San Diego man shot multiple times in the Las Vegas shooting is on a search to find the Good Samaritans who he says saved his life.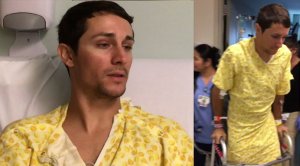 The 25-year-old Valley Center man suffered two gunshot wounds to his leg and hip. He remembers every second of the horrific moment of the mass shooting. Jefferey Koishor said when the shooting started, he laid on top of his friend to shield her from bullets.
"There were just so many bullets being fired. I nearly panicked," he said. He told her that they needed to get up because they were going to get trampled.
"I was running on my right leg for about 50 yards until I got to the House of Blues bar where it had a covered roof," said Koishor said, who added that blood coming from the two bullet wounds ran down his leg, soaking his shoe.
"Inside the bar was a gentlemen that picked me up, threw me on top of the bar, cut off my shirt and used it as a tourniquet because [my leg] was bleeding pretty bad," Koishor said. "He and another gentlemen carried me to a back parking lot and placed me behind a car."
A driver in an SUV pulled up and the men put Koishor into the backseat. He was then taken to a hospital.
"When they threw me in the vehicle I was in excruciating pain," he said.
Since being at the hospital, Koishor is recovering at a Las Vegas hospital. He posted video of him taking some steps.
Koishor said he's hoping to reconnect with the three men and a woman, who was keeping him calm while being driven to a hospital.
"I'm trying to find them to thank them for saving my life," Koishor said. "I can't be grateful enough. I really think they saved my life. I would've been sitting there at the venue with no one to carry me. I don't know if I would've made it or bled out."
He's overwhelmed with all of the support he's received, including the complete strangers who have donated to an online fundraiser.
Koishor is expecting to be released from the hospital Thursday and return to San Diego County.