This is an archived article and the information in the article may be outdated. Please look at the time stamp on the story to see when it was last updated.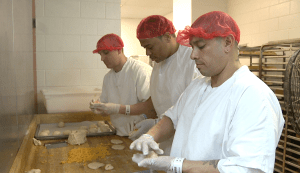 Otay Mesa, CA – A new bakery in East County has cream puffs, breadbaskets and freshly baked loaves, all made by inmates.
"My favorite thing to make are coconut balls," said Demetrius Lee, one of over a dozen inmates taking part in the new baking program, inside the San Diego's East County Jail.
"It's funny you know, you have these men and they have their tattoos and we know that they have a criminal background, yet being really delicate," said pastry instructor, Irene Fombon.
Inmates are in class 7 hours a day 5 days a week.
"It is a jail setting, so everything has to be locked up, they have to be watched at all times," Fombon added.
Over time, those who stick with the program can qualify for 'safe-serve' a nationally recognized certification in culinary arts.
"The goal here is to give them skills that are transferable to the outside, so they can get employment," said Robert Vander Kamp with the Sherriff's Service Division.
Jail officials say so far the program is proving to be a big success for inmates once they leave the jail, so they're working on growing the program.
There are 18 inmates taking the class and a long waiting list.
Lee says there is a downside to all of this.
"I've gained 7 pounds, I'm having too much fun sampling everything," he said laughing.