This is an archived article and the information in the article may be outdated. Please look at the time stamp on the story to see when it was last updated.
SAN DIEGO – Hundreds of independent artists from around the globe walked the red carpet and took to the stages at Point Loma Liberty Station to showcase their talents at San Diego IndieFest-8.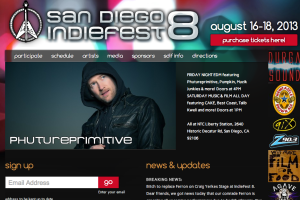 The three-day event that kicked off on Friday is a place where independent filmmakers, musicians, businesses, and non-profits get their time to shine.
Organizers of SD IndieFest-8 said they hope to change the perception of "indie" art, which is usually synonymous to "low budget" or "poor quality."
"Indie now means something else," said Danielle Lopresti, Co-Producer of the event. "It's like 'fist in the air, revolution!' We're doing it ourselves. We're finding a way to define ourselves and our art the way we see fit."
One of the headliners is Steve Grand. He is a college dropout from Chicago, who ditched the labels and became an overnight youtube sensation. Just six weeks after it's release, his song,
"All -American Boy"
has almost 2 million hits.
"Most of it's recorded in my parent's basement," admitted Grand.
"All-American Boy" is a love ballad about a boy and a boy.
Grand used his independent status to his advantage by debuting the music video on youtube.
He said by not having a middle man getting in the way, he was able to convey the message he was trying to send.
"It's about appealing to a specific niche," said Grand. "That is what I am trying to do. I stay focused on them because that is what they deserve."
Independent filmmakers at the event also did things non-traditionally.
Creators of
"Counterpunch,"
 'A Beautiful Mind' meets 'Rocky' film, arrived at the San Diego IndieFest-8 red carpet a little out of order.
"We did't get picked up," said  Kenneth Castillo Co-Writer and Director of 'Counterpunch.'  "We got distribution, and now film festivals are screening us."
Lionsgate already picked up the film. But creators say they love the free spirit of indie festivals.
Organizers hope their free-spirited visitors will be inspired to become artists of their own.
"When you see what another independent has done all on their own, I think it's almost impossible not to think, 'What can I do?'"  said Lopresti. "What do I have inside of me that I've always want to do?"
San Diego IndieFest-8
continues until Sunday. Organizers say Saturday is the most eventful of the three days, with big name indie artists like Talib Kwali and Cake taking the stage.