This is an archived article and the information in the article may be outdated. Please look at the time stamp on the story to see when it was last updated.
SAN DIEGO – The Republican Party of San Diego's Central Committee voted Monday to endorse Carl DeMaio for the 52nd Congressional District race.
There are three candidates running for the seat, which is currently occupied by Democrat Scott Peters. They are Carl DeMaio, Kirk Jor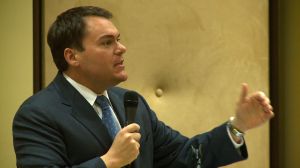 gensen and Fred Simon.
During Monday's monthly meeting of the local Republican Party each candidate had an opportunity to share why they're running.
Former San Diego City Councilman Carl DeMaio spoke first.
"I may be one voice in Congress, but I am one of thousands and hundreds of thousands and millions of voices across this city, across this state and across this country," said DeMaio. "It's your voice that we are bringing into Congress."
Former U.S. Marine Corps Officer Kirk Jorgensen is also fighting for the seat.
"There are people who say well kirk what are you doing? Why are you running for Congress? You've never been in politics. You're not a politician," said Jorgensen. "And I agree with them and I think what we need today are not politicians. We need leadership and we need people that are looking out for the next generation."
The third candidate for Congress is Fred Simon, a local surgeon.
"I've worked with government agencies. I've worked with private hospitals. I've worked with attorneys on healthcare," said Simon. "It's not that difficult, but you need leadership. You need people who are informed."
After hearing the speeches, the GOP Central Committee members met in a private session to vote on which candidate, if any, to endorse. There are 56 committee members and an endorsement requires a two-thirds vote.
The committee ultimately decided to endorse Carl DeMaio, according to Tony Krvaric, party chairman.
"I'm thrilled that the local Republican Party through this endorsement has embraced my call to get away from divisive social issues and refocus on a positive agenda of fiscal reform, job creation, and fixing problems that can unite all San Diegans regardless of party," DeMaio said, following the endorsement.