This is an archived article and the information in the article may be outdated. Please look at the time stamp on the story to see when it was last updated.
SAN DIEGO – The largest USO airport center in the world took flight with its grand opening and ribbon cutting ceremony, Wednesday.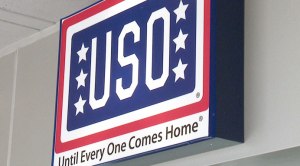 The new USO Neil Ash Airport Center  is located in a two-story building at terminal two of the San Diego International Airport.  It is 10-thousand square feet, double the size of the former site.
Bobby Woods, the director of the USO Neil Ash Airport Center said the reason San Diego was chosen to house the center, is a simple one.  "We have the largest concentration of military right here in San Diego, so what's more fitting than to have the largest USO?"
The center is a modern state of the art airport lounge.  It caters to traveling military service members and their families, and is a home away from home.
It has a game room, wi-fi, big screen televisions, access to Skype, and a  kitchen where refreshments, sandwiches and pastries are served at no charge.  It is also the first USO lounge to have an outdoor patio area.
The San Diego County Regional Airport Authority covered the $5-million dollar cost of the center.
The airport lounge will open to military personnel and their families on Friday, June 28.  It will be open 365 days  from 6 AM to midnight.