This is an archived article and the information in the article may be outdated. Please look at the time stamp on the story to see when it was last updated.
SAN DIEGO – The City of San Diego received a $4.40 million state grant to build skate parks in Linda Vista and City Heights.
Mayor Kevin Faulconer and Councilman Scott Sherman awarded the Linda Vista community with a check for more than $3 million, including an additional $40,000 from the Tony Hawk Foundation.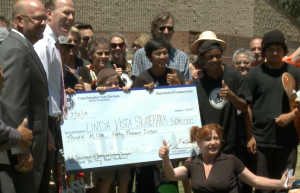 The remaining $1.4 million will granted to the City Heights community next week, according to officials.
Kids in the community helped push the project along by getting 1,781 signatures from residents and business owners.
"Finally, we get a skate park … somewhere we can skate!" said Mark Bernardo, a Linda Vista resident. "We're happy for it to get here so we don`t get ran over by any cars. We usually skate behind the alleys or out by apartments."
Linda Vista and the City Heights communities were eligible for the grant, because they're both surrounded by low-income housing.
"This community has been overlooked for a long time," said Sherman.
Officials anticipate that it will be a "destination" skate park likely to attract visitors from all over the county.
The park is expected to be ready within an estimated two-year span.
The Linda Vista Recreation Council and Linda Vista Community Planning Group have both endorsed the project.