This is an archived article and the information in the article may be outdated. Please look at the time stamp on the story to see when it was last updated.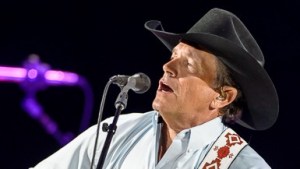 SAN DIEGO – It's official, George Strait and his famous crooked smile, rode away.
The King of Country played to a sold out crowd of about 20,000 fans at the Valley View Casino Center Friday night as part of his Cowboy Rides Away final tour.  He opened with his classic, "The Fireman," a song that never made it to #1 but has definitely been a fan favorite over the years.
Strait has secured 60 #1 hits in his career which is more than any other artist in any genre of music-ever.  Miranda Lambert opened for the country icon.  Dressed in black pants, tall black boots, and a white and black tube top, Miranda blew away the audience with her top hits including,  "The House that Built Me," and "Gunpowder and Lead."
The 61 year old cowboy from Texas was accompanied by his band, The Ace in the Hole Band.  Together, they played some of his greatest hits including, "The Chair,"  "You Look So Good in Love," and "Check Yes or No."  Strait played several songs in his set that were written by his son whom he proudly noted.
The show was straight forward, classic-no frills-no fireworks-no crazy stunts, and that's to be expected and quite frankly, what most fans wanted from The King of Country.  With it being his final tour before retirement, fans wanted to really hear him, see him, and feel his music.
That's exactly what the night captured for thousands of excited country music fans.  He sounded good, he sounded true as he rotated around the center stage.  He's an authentic country singer who's  still got the classic twang, and that's something some might argue is slowly slipping away.  Strait has continued over the years to be relevant despite the changes in country music in recent years.
He's stayed strong and continued to chart number one hits.  For country music fans, it's bitter sweet to see him retire as Strait is in some ways one of the last country crooners, so to speak, on commercial radio stations these days.  Just hearing his accent and his country drawl brings several different generations to their feet, or quietly gives them goosebumps no matter what he song he plays.
It's been his gift, something Strait was born to do.  He does it well, he does it effortlessly, and after 20 years he returned to San Diego and he did it in America's Finest City.