This is an archived article and the information in the article may be outdated. Please look at the time stamp on the story to see when it was last updated.
SAN DIEGO – Same-sex marriages are now taking place in parts of California, but Friday afternoon the San Diego County Clerk's office was turning away couples.
A federal appeals court lifted a stay it had placed on the unions while the battle over Proposition 8 was pending before the U.S. Supreme Court. Friday the 9th Circuit Cou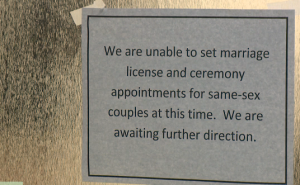 rt of Appeals ruled the marriages could begin immediately.
Laurence Watts and his fiancé, Fernando Buendia-Laysa Jr., rushed to the San Diego County Clerk's Office to apply for a marriage license.
"We figured if they're doing it up in San Francisco then they gotta be doing it here right?" said Watts.
However, the couple was told the San Diego County Clerk's Office is not yet accepting marriage license applications from same-sex couples. County Clerk Val Wood said the office is ready, but is waiting on the official nod from the state's Office of Vital Records.
"The minute we receive direction we will start taking appointments," said Wood.
If the office receives word over the weekend, appointments would begin as early as Monday.  Buendia-Laysa Jr. said he doesn't mind waiting a couple extra days.
"This is a really big step," he said. "I wish it had been done sooner, but I'm just thankful that finally things are moving in the right direction."
For couples choosing not to make an appointment, Wood said the clerk's office offers "Walk-In Wednesdays." Couples can simply show up, apply for a marriage license and even have a civil ceremony, if desired. Wood expects it will be busy, but said the office is prepared.
"We feel we have enough staff to accommodate that," said Wood. "We have volunteers and we'll be able to accommodate the walk-in Wednesdays. It's similar to what we run on Valentine's Day where we take all walk-ins. As long as you're in the door by 5:00."
Another couple that showed up at the Clerk's Office said they'll be back next week.
"It's been a very long time coming," said Brady Lackey. "I work hard. I pay taxes just like everyone else and filled with just enormous joy I actually cried when I started seeing the decision read."
Along with the clerk's office in downtown San Diego, there are three other offices in the county where couples can apply for a marriage license. They are located in Chula Vista, El Cajon and San Marcos.
A marriage license costs $70.