This is an archived article and the information in the article may be outdated. Please look at the time stamp on the story to see when it was last updated.
SAN DIEGO – Looking back at 2012, San Diego City Council President Todd Gloria said city leaders should be most proud of balancing the budget.
"To have gone through the last decade," said Gloria. "Where we were the city that was once known as 'Enron by the sea' to one now that is looked to for reform efforts when it comes to pensions, retiree healthcare and other issues that has been a long journey."
Moving forward Gloria said residents have a lot to look forward to in 2013.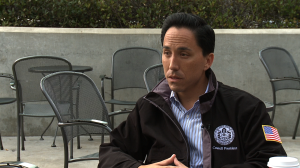 The city will be opening its first one-stop homeless service center, which will provide a facility for those in need 365-days a year. The new Central Library is scheduled to open this summer and construction will begin on a permanent fire station in Mission Valley.
"We have never had a permanent fire station in Mission Valley," said Gloria. "That will get authorized this year and construction will begin in 2013, complete sometime probably in 2015."
The city will also replace the computer aided response system.
"For the person who calls 9-1-1 right now we're working off about a 30-year-old computer system. Getting this new system in place will reduce response times and keep our citizens better protected," he said.
City leaders are also facing some challenges. Gloria said a worst case budget scenario could involve a deficit of $40 million.
"That is really being driven by the broader worldwide economy and it's slowly recovering from the recession," said Gloria. "The ending of redevelopment, which is taking money away from city and giving it to the state of California. The voter approved proposition B transfers our pension system into our 401k system, which has about a $27 million hit right off the top."
Whatever the deficit ends up being, Gloria said the council priority will be balancing it while making sure services are last to be cut.
Gloria said infrastructure is another top priority with the city facing an estimated $900 million in project backlog.