This is an archived article and the information in the article may be outdated. Please look at the time stamp on the story to see when it was last updated.
SAN DIEGO – San Diego City Council members run non-partisan, but if you look at their political affiliations Democrats will hold a 5-4 majority when the new members are sworn in December 3.
Even with mayor-elect Bob Filner being a Democrat, Republican councilman Kevin Faulconer said he doesn't believe political party will have much impact on decisions.
"We've been able to work very well together as a council," said Faulconer. "We've reached across the partisan aisle and very rarely does that come up, because when it comes to neighborhood services, libraries and rec centers these are not Republican or Democratic issues. These are what should we be doing for the city? What's best for the citizens of San Diego?"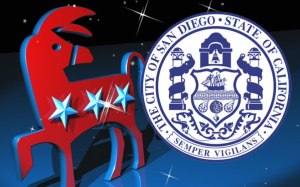 Democratic councilman David Alvarez agreed.
"Some of the issues we work on aren't as partisan," said Alvarez. "It makes it a lot easier to come to a decision a lot quicker, as opposed to what you see in Sacramento or in Washington DC."
When asked about priorities, both councilmen gave the same answers.
"We've been able to work so far on financial stability," said Alvarez. "The next thing is stabilizing our neighborhoods and finding a way to invest in the neighborhoods."
"Restoring more neighborhood services," said Faulconer. "Library hours, rec center hours, more street paving – those are the nuts and bolts areas that I see we're going to spend most of our attention in the coming year."