This is an archived article and the information in the article may be outdated. Please look at the time stamp on the story to see when it was last updated.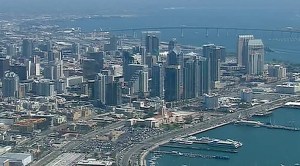 SAN DIEGO — The City Council's Rules and Economic Development Committee is scheduled Wednesday to consider a proposed ordinance that would apply state and federal prevailing wage laws to most big public works projects in San Diego.
As it stands, the city sets pay for contractors working on water and sewer projects valued at more than $10 million or large city projects that are partially funded with state or federal dollars. But the City Attorney's Office Monday issued the opinion that prevailing wages cannot be required for all projects, unless the City Charter is amended.
A memo to the City Council suggested it would need to determine what types of projects would benefit from requiring contractors to pay workers prevailing state and federal wages.
The proposed ordinance requires compliance with state labor code sections on prevailing wages and leaves a blank for council members to fill in regarding the types or value of projects to be covered.
Nelson Hernandez, the city's assistant chief operating officer, said in his own memo that the benefits of requiring prevailing wages include improving local construction careers, ensuring that contracts compete on an even playing field and building projects with a skilled labor force.
Hernandez said it was hard to gauge the effect of the proposed wage requirements on the cost of projects to taxpayers. Contractors with relatively even labor costs, he said, would compete based on costs in areas such as design and engineering.
The city's Independent Budget Analyst estimated in a report that total project costs would rise 5-10 percent, which would mean an additional $13-$26 million spent on projects planned for the fiscal year beginning July 1.
The higher costs could mean fewer projects could be funded, according to the report. However, the IBA noted "worthy social and economic policy objectives" attached to prevailing wage laws. Of 113 contracts for capital projects to be awarded the current fiscal year, prevailing wage laws are expected to be applied to 20 of them, according to Hernandez.
Prevailing wages are determined by collective bargaining between unions and employers, he said, adding that the state Department of Industrial Relations does an annual survey of pay rates.
As a charter city, San Diego is not required to specify prevailing wages on municipal construction contracts. A bill being considered in the Legislature, however, would end the exemption for charter cities. Lawyers for the city have expressed the opinion that the state bill, if passed, would ultimately be found unconstitutional.