This is an archived article and the information in the article may be outdated. Please look at the time stamp on the story to see when it was last updated.
SAN DIEGO – The San Diego City Council unanimously approved a bike sharing program during Tuesday's council meeting.
The effort began last year under the leadership of then-Mayor Jerry Sanders.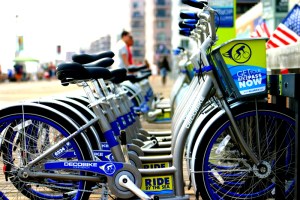 The Council approved a 10-year contract with the company, DecoBike. The company will pay the upfront infrastructure costs to install the bike stations around San Diego. City leaders said that capital investment is valued at $7.2 million.
Between 180 and 220 stations will be installed, holding more than 1,800 bikes.
City Council President Todd Gloria said, unlike many cities with bike sharing, this program will not cost San Diego anything. Instead, he said it is projected to bring in at least $1 million during the contract.
"In other cities it actually cost their general fund money," said Gloria. "In this particular case, we actually think we'll make some revenue that we can put into more bike facilities to help make us even more bike friendly."
Tyler Bergin, a volunteer with the organization Bike SD, said he believes it's a move in the right direction.
"We definitely hope it will help, especially as a catalyst to get more of a discussion on bike infrastructure," said Tyler Bergin, Bike SD volunteer. "And hopefully get more bike infrastructure implemented."
Gloria said the program would operate similar to Car 2 Go. Users will become "members" and will pay to use the bikes at the public stations. The bikes can be returned to any bike sharing station.
There is one downfall for the city. Some parking meters may have to be removed to make room for the bike stations. That means reduced revenue from parking, but Gloria believes the positives outweigh the negatives.
"The revenue the city will miss out on because of the lack of a parking meter is minuscule in terms of the benefits we're going to receive from having more San Diegans biking," said Gloria.
The locations for the bike stations have not been determined just yet. DecoBike will be gathering community input. You can follow the process on the company's website.
Prices have not yet been announced.