This is an archived article and the information in the article may be outdated. Please look at the time stamp on the story to see when it was last updated.
SAN DIEGO – A winter storm is expected to slam San Diego on Friday, bringing powerful swells and waves up to 10 feet.  One state agency spent Wednesday preparing, just in case they're called into action.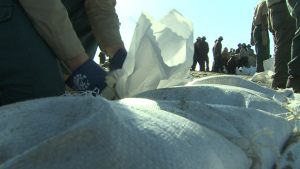 More than 100 members of the San Diego California Conservation Corps lined the shore at Fiesta Island Wednesday afternoon engaging in sandbag training.
"It's called flood-fighting training. We do it every year," said Phil Lemke, CCC staff member who lead the training session. "They're learning how to properly fill sandbags, properly places sandbags and build sandbag structures."
CCC is considered the first line of defense when it comes to natural disasters.  Young men and women between 18 – 24-years-old work to protect homes and businesses in the event of flooding, landslides and other major events.
"A lot of times after wild land fires and it rains, it translate into mudslides.  We've been called particularly in East County to protect some of the homes in there," said Lemke. "We can be called at a moment's notice."
The CCC was founded in 1976 by Governor Jerry Brown.
Effective and rapid response begins with the skills members of the CCC learn now.
"If you drop the bag they're slowing down production of the building," said Jazmine Sims, CCC staff member.
With each sandbag Caleb Maxwell lifts, he is also building a foundation to a future career.
"It's pretty tough trying to jump into a city fire department," said Maxwell.  "I'm using this experience with the CCC as a stepping stone."