This is an archived article and the information in the article may be outdated. Please look at the time stamp on the story to see when it was last updated.
SAN DIEGO -- A San Diego-based Navy pilot who was shot down during the Vietnam War more than 50 years ago was laid to rest Sunday.
The remains of Lt. Commander Frederick Crosby were brought to their final resting place at Fort Rosecrans National Cemetery by horse-drawn carriage with Patriot Guard riders lining the street. Crosby's family and friends came from all over the country for the ceremony five decades in the making.
On June 1, 1965 Crosby was flying over North Vietnam when his plane was shot down by enemy fire. Thanks to DNA from his sister Sharon, Crosby's remains were positively identified and brought back to the U.S.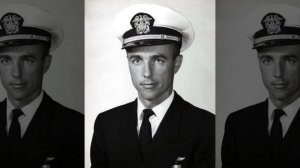 "Never leaves you, it's with you every day. I don't think in those 52 years that I haven't thought of him," said Sharon Crosby. "We have our closure today, we really do."
Full military funeral rites were administered along with a U.S. Navy flyover to honor the fallen naval pilot.
His daughter Deborah who flew in from New York says it was overwhelming. She was around 7 years old when her father was declared missing in action.
"We grew up in Point Loma so my dad being buried here at Fort Rosecrans is truly coming home," said Deborah. "He actually wasn't supposed to be on this mission he volunteered to fly on this particular mission because that's the person he was."
Deborah thanked the U.S. Department of Defense and the Government of Vietnam for administrating the DNA testing that positively identified his remains.
She says Memorial Day has taken on a different meaning now, compared to last 52.
"I haven't really talked about it much. Now, it's a different story. It's easier to tell now that my dad's home and that he's received the honors that he has," said Deborah.
To date there are still 1,611 American servicemen and civilians that are still unaccounted for from the Vietnam War.