This is an archived article and the information in the article may be outdated. Please look at the time stamp on the story to see when it was last updated.
SAN DIEGO – Six months after President Mohammed Morsi was ousted in Egypt, voters are heading to the polls to cast ballots on a draft of the country's next constitution.
Two San Diegans are among those from around the world who helped delegates with the drafting of the document.
Egypt's interim government designated 50 delegates from across the country to draft the new constitution. The delegates represent a variety of organizations including the Evangelical Church, National Council for Women, National Council for Human Rights and the Revolutionary Youth Coalition.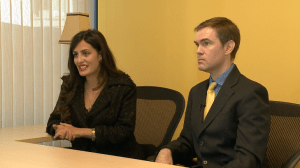 Those delegates reached out to people from around the world for insight, including University of San Diego law professor Dr. Laurence Claus and Egyptian-American attorney Jacqueline Isaac.
"We've been able to work with a couple delegates in the constituent assembly to hear their needs, hear their issues and to help them with research and some discussions on these exact points were talking about now: minority rights, freedoms," said Isaac.
Isaac said the new document includes protection for all types of people, including women, religious minorities and the disabled.
"We're seeing this unprecedented new idea that every single Egyptian is equal under the eyes of the law," she said.
Under the draft, Isaac said women and men are considered equal and Christians will be given the right to build churches. The government is also going to take steps to provide job placement for disabled people.
"To see this day come when women and men are equal before the law, it's never happened before, Isaac said. "To say that the state will actually protect women against violence, it's never happened before."
Voting on the constitution began Tuesday in Egypt, amid violent confrontations involving the Muslim brotherhood, now considered a terrorist organization.
"The Muslim brotherhood was not a part of the constituent assembly or its representation at all," Isaac said. "They did not want to be a part of it, because they did not see it as a legitimate process."
Dr. Claus said even if the draft constitution is approved, there is still much to be done in Egypt.
"America got very lucky with the quality of its early leaders. South Africa got very lucky with Nelson Mandela," said Dr. Claus. "And a lot of the fate of this constitution is going to turn on who, in fact, the leaders turn out to be. The subsequent election processes matter a lot. Throughout the world we have written constitutions that say beautiful things and the extent to which those beautiful things turn into good outcomes really turns on the people, more than on the words. But the words pointing in a good direction is sure important."
Voting on the new draft constitution will continue through Wednesday in Egypt.