This is an archived article and the information in the article may be outdated. Please look at the time stamp on the story to see when it was last updated.
SAN DIEGO, CA — Over 800 of America's brightest students applied to get the prestigious Rhodes scholarship this year, only 32 made the cut and one of them is from San Diego.
"Congratulations on your election to a Rhodes Scholarship," said 23-year-old, Zarko Perovic as he read his acceptance letter.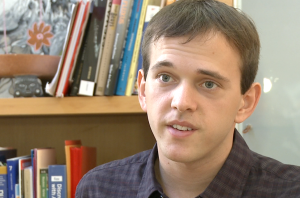 He is heading to England's prestigious Oxford University, after being awarded the also prestigious and highly selective, all expenses paid, Rhodes scholarship.
"It's still hard to process," said the Torrey Pines High School grad, who has 2 political science degrees from Berkley.
He'll be getting his masters on international relations and wants to pursue a career in international law.
He says it was a story when he was younger that inspired him.
"We moved when I was 8 years old," Perovic and his family moved to the U-S from war stricken Serbia.
He says having experienced and seen the long lasting effects of war himself, he wants to help others living the consequences of violent conflicts.
"So many people think of war ending when the bullets stop firing and it's so much more than that," said the new Rhodes scholar.
Zarko says there are no secrets to his academic success.
"Working hard is something I received from both my parents and grand parents," said the soft-spoken man as he pointed to pictures on his wall of those who've inspired him, including Associate Justice of the Supreme Court, Stephen Breyer.
The young man who lives in Carmel Valley says he also reads a lot and avoids wasting time and doesn't have a Facebook account.
However, the most important thing for him, is being able to follow his passion.
"Its really pursuing your passions ruthlessly," he stressed; "Its taking that passion and pursuing something that makes you get up early in the morning and want to change the world," the soon to be Oxford student added.
Perovic speaks Serbo-Croatian, French, Spanish, German, Romanian and is working on his Latin.