This is an archived article and the information in the article may be outdated. Please look at the time stamp on the story to see when it was last updated.
SAN DIEGO – Kent De Mond considers himself a stuntman with his favorite stunts starting on a cliff about 100 feet above water.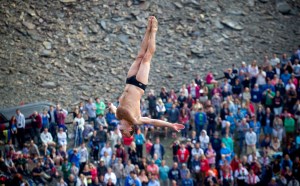 The 30-year-old joined the cliff diving circuit in 2008 and finished fourth in the Red Bull World Series in 2010.
The former All-American diver at Princeton works constantly to perfect his aerial acrobatics and a safe entry into the water.
"I usually get whiplash if I don't hit my entry just right," De Mond said. "Because you're going down at almost 60 miles per hour and then you're stopping yourself in less than 10 feet of water. Just the force of the weight of your head crushing down on your feet when the water is stopping you so fast is pretty tough on your neck."
Fortunately, De Mond has the perfect day job to train for cliff diving. He works as a performer in the Blue Horizons Dolphin show at Sea World.
"Even though (the platform) is only about seven meters, which to any spectator is extremely high, it's a good height for me to practice the beginning part of my dive, the more acrobatic part of the dive," De Mond said. "I can practice that part here and I can also practice the barani entry here. So I practice those parts separately, but when I go to competitions, I have to put it together in my mind and combine the two elements in the air in one big difficult dive."
A former gymnast, De Mond said he has worked in shows all over the world and moved to San Diego three years ago. He also landed a gig in the new TV show Splash as a performer.
But to hear him describe it, nothing compares to cliff diving in front of 40,000 spectators.
"You hit the water and have a roaring applause and it definitely helps," he said. "Because when you are doing a dive that could potentially send you to the hospital if you land it flat, you have all those nerves worked up and you have that extra adrenaline of a great crowd cheering you on, it just makes it that much easier for us to get off the platform."
And once off the platform, it's all downhill from there.