This is an archived article and the information in the article may be outdated. Please look at the time stamp on the story to see when it was last updated.
SAN DIEGO –It was a huge day for same-sex couples in San Diego, as many lined the hallways of the County Administration building downtown waiting to get married during walk-in Wednesday.
"We're really excited," said Michael Chambers hugging his partner while wearing "Just Married" t-shirts.  "We've been together 31 years and it's really great to finally be recognized by the state, the country as equal citizens with all the benefits and rights that are afforded everyone else who gets to get married,"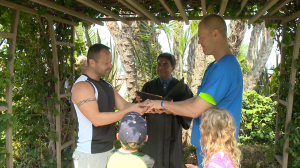 Many couples said they wanted to take advantage of the recent Supreme Court ruling where Prop 8, the ban on gay marriage, was struck down.  On Friday, the 9th Circuit Court of Appeals waived the 25 day waiting period for the ruling to take effect.
"It's a little overwhelming it's finally here," said Jeff llera Johnson after marrying his partner Steve Johnson.
Couples typically need to make an appointment for a marriage license and same sex couples did that on Monday and Tuesday but Wednesday was the first walk-in day since the ruling so no appointment was needed.  Walk-in Wednesday will occur all summer until September 25th and is intended to accommodate more couples.
"It would help if they could complete the application before they come down," said Val Wood, Chief Deputy Recorder -County Clerk, San Diego County. "If not, they'll be given a clipboard and application in line.  Just make sure you bring identification and it's not expired."
Wood said every couple who arrives before 5 p.m. on a Wednesday with the proper paper work will be married.