This is an archived article and the information in the article may be outdated. Please look at the time stamp on the story to see when it was last updated.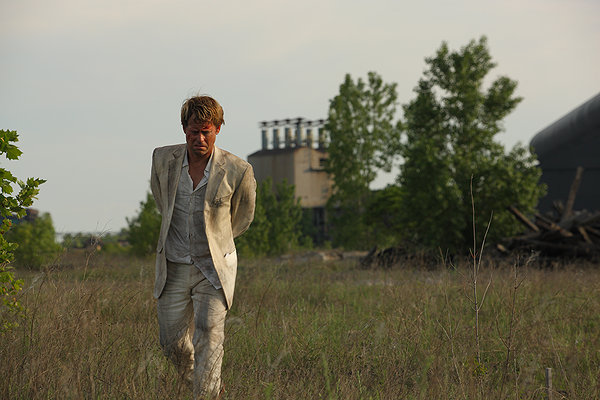 This is based on a book by Larry Beinhart, who gave us the political satire Wag the Dog.
Salvation Boulevard satirizes religion, a topic that is close to director George Ratliff's heart. His family is religious and he's done some religious films before (Hell House and Joshua).
I thought a few things would distract me early on. One was that Pierce Brosnan played a character named "Pastor Dan."
I couldn't help think of Lieutenant Dan from Forrest Gump; the fact that Greg Kinnear and Brosnan appeared together in The Matador (an underrated gem from 2005) made me welcome the pairing again.
Much like in The Matador, Brosnan is the alpha male – a pastor of a new church which is growing in the city. Kinnear, a recovering Dead Head, is pushed around by everyone.
His wife is played by Jennifer Connelly; nice to see her in a comedic role.
The first thing that sets this movie apart from other similar comedies is that characters that are dumb aren't complete imbeciles.
Connelly's dad is an ex-military religious nut that never believes a thing Kinnear says (especially when he talks about witnessing Brosnon accidentally shooting an atheist author, played nicely by Ed Harris).
Side note: two Oscar winners, two Oscar nominess. This might be the best cast in a film all year.
The Pastor Dan character is one that has been done to death, but in this he's not just a charlatan. He actually believes the crap he says, and that mysterious phone calls he's getting are from Satan.
Jim Gaffigan plays a dopey cameraman for the church, whose religious fervor makes him more scary than funny (he's one of the best stand-up comedians working today).
More comic relief is brought by another Dead Head – Marisa Tomei. I thought her character in Crazy, Stupid, Love was just a bit over the top, but she hits just the right notes with this role.
And all this Grateful Dead talk gets the bad taste out of my mouth left by the sappy and poor movie The Music Never Stopped.
I like the fact that Connelly and Kinnear have a daughter (Isabelle Fuhrman) who doesn't buy into all the garbage the church is spewing, but isn't the typical teenage rebel you see on screen. She attends her Sunday school and other church functions her parents force her to go to, even if that means not saying the exact pledge she's supposed to. What a refreshing dose of reality for a film to have. A lesser movie would've made the kid smoking outside the church, or such a brat you'd wonder why the parents don't spank her, ground her, or kick her out of the house. She's merely biding her time, knowing she'll be off to college soon enough.
I enjoyed the fact that Ratliff has these characters (Harris and Brosnon) having a spirited debate on spiritual topics, without Brosnon coming across as a boob. Another writer/director would've wanted us to just hate him outright for his religious fanaticism.
That doesn't mean the movie is consistently funny, or doesn't have a few missteps. It does. And perhaps some might be bothered by the many wacky characters the movie juggles. I had no problem with that.
I also enjoy the subtle touches the film has. When Tomei's security guard character says the word "man" after each sentence, I notice Kinnear starts to slip into a syntax flashback where he occasionally throws "man" into his conversations.
After the screening, I spent time arguing with a few critics that didn't care for the film. We argued again at a screening for Higher Ground, which they all liked. It's a similar topic, but a film that wasn't nearly as fun as this.
When I sat down to write this review, I glanced at Rotten Tomatoes. I was baffled the movie was only getting around 20% positive reviews. That easily makes this the #1 movie the critics missed the boat on this year.
It wasn't at the Ken Cinema very long, so order it on Netflix. You'll thank me later.