This is an archived article and the information in the article may be outdated. Please look at the time stamp on the story to see when it was last updated.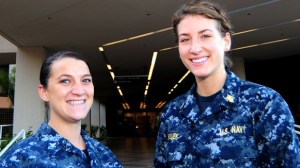 SAN DIEGO – Two Navy sailors visiting the San Diego Zoo with family stumbled upon an unconscious man and worked together to save his life, Navy officials said.
The incident happened the day after Thanksgiving. Ensign Janean Wujek and Hospital Corpsman 3rd Class Stephanie Moor of the Naval Medical Center San Diego were on their way to see the Zoo's hippopotamus exhibit when they saw a group of concerned people.
"As I approached, I noticed a man approximately 65 years of age lying lifelessly on the ground. I informed [the bystanders] that I was a corpsman from the Cardiac Rehab Clinic at NMCSD and asked if they wanted help," said Moor.
"There was a woman saying, 'Stop, don't go over there! There is a man getting CPR.' My mind clicked into nurse mode, and I immediately ran over," Wujek said. "When I arrived, the victim was not breathing. He was blue as a blueberry and had a thready pulse, so we continued with chest compressions and rescue breathing."
The victim was identified as Navy veteran James Thompson from Clearbrook, Minn. He was transported to Scripps Mercy Hospital where he spent eight days after having surgery to implant a pacemaker defibrillator, Navy spokesman John Philip Wagner Jr. said.
"[Thompson] was a walking time bomb, and he was lucky that it happened when he had expert people to help him," said Debbie Andreen, a family friend.
"I'm at a loss for words. Their dedication to duty – it's awesome. Coming to the aid of a complete stranger – I would just like to say thank you for their help," said Thompson.
Thompson was released from the hospital, Wagner said.  As for Moor and Wujek, they were honored with a standing ovation at the NMCSD Director, Department Head and Senior Enlisted Leaders meeting.
"I am incredibly proud of Ensign Wujek and Hospital Corpsman 3rd Class Moor.  They represent what Navy medicine is all about – saving lives and making a difference for those who need our help," said Rear Adm. C. Forrest Faison III, commander of NMCSD and Navy Medicine West.