This is an archived article and the information in the article may be outdated. Please look at the time stamp on the story to see when it was last updated.
SAN DIEGO — A retired Navy petty officer who was shot by a San Diego policeman after raising a military assault rifle in his direction was sentenced Tuesday to probation and ordered to continue counseling and treatment for mental health issues, including a form of Post-traumatic Stress Disorder.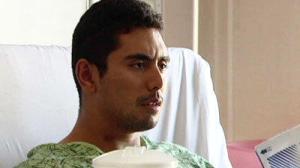 Esteban Nandin, 25, pleaded guilty last July to a felony charge of brandishing a firearm in the presence of a peace officer. Judge Timothy Walsh suspended a yearlong jail term as long as Nandin successfully completes three years of probation.
A motion to reduce the felony conviction to a misdemeanor was denied.
Defense attorney Jeremiah Sullivan told reporters that Nandin spent quite a bit of time serving as a guard at one of Iraq's most dangerous prisons.
Sullivan said Nandin heard noises and wanted to secure his apartment building — flashing back to his time in Iraq — when the gun-pointing incident in San Diego happened on Oct. 14, 2012.
"He has no recollection of the actual event. But having gone through this process over the past year, he is someone who has a strong moral compass and he feels terrible that he would actually endanger the public or endanger an officer, for that matter," Sullivan said.
Deputy District Attorney Robert Eacret said the rifle raised by Nandin at the officer wasn't loaded.
Eacret said the victim is sympathetic toward the defendant, despite fearing for his life during the traumatic incident.
"He (the officer) had no way of knowing that the weapon was unloaded," the prosecutor said. "There was a weapon pointed at him and he shot because he was in fear for his life."
Eacret said Nandin will continue his mental health treatment through the military.
San Diego police officers were called to a six-story residential unit above commercial space shortly before 3 a.m. on Oct. 14, 2012.
Someone inside 606 Third Ave. told a 911 dispatcher that a man wearing a tactical vest and carrying a military-style assault-type weapon was in a first-floor corridor.
Officers entered the lobby and spotted Nandin with a gun. He saw the officers and began to raise the barrel of the weapon toward them. The officer closest to Nandin — an 18-year veteran of the department — responded by firing two rounds from his duty weapon.
Nandin retreated into the stairwell and a SWAT team was called. About 50 minutes later, Nandin — bleeding from his chest and arm — emerged from the building unarmed and was taken into custody.
A military-style assault rifle, gas mask, handgun and a body armor vest were found in the stairwell, police said.