This is an archived article and the information in the article may be outdated. Please look at the time stamp on the story to see when it was last updated.
EL CENTRO, Calif. — A Navy sailor attached to a West Coast-based special warfare command died Monday from injuries sustained during parachute training in Imperial County.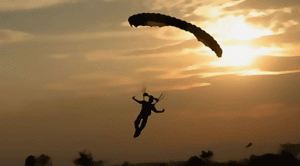 Authorities are investigating the cause of the accident during routine training near El Centro, said Deputy Public Affairs Officer Chief Brandon Raile.
The sailor, whose identity wasn't released, was a member of a West Coast-based Naval Special Warfare Command, Raile said in a statement.