This is an archived article and the information in the article may be outdated. Please look at the time stamp on the story to see when it was last updated.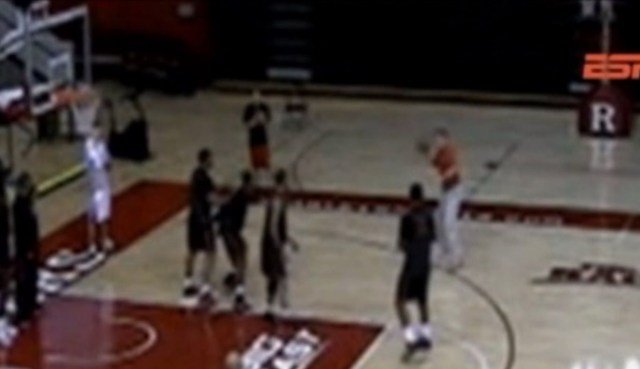 (CNN) — Rutgers University has fired basketball coach Mike Rice, according to a tweet by the university's athletics department.
A video released by ESPN shows Rice, Rutgers University's head basketball coach, shoving players, kicking them, hurling balls at their heads and yelling what appears to be homophobic slurs and profanity.
The video released Tuesday features Rice during the men's basketball team practices. It was not made public until Tuesday.
In addition to grabbing and shoving players, in the video Rice also berates them and uses profanity.
Rutgers athletic director Tom Pernetti suspended the coach for three games and fined him $50,000 after watching the video in November. He said he chose suspension rather than termination even though both options were on the table.
"Accountability is a vital element of the Rutgers Athletic family and it is imperative our head coaches act and lead in a responsible manner," Pernetti said in a news release in December.
"This was not an easy decision for me to make but absolutely necessary to ensure what is best for our program."
CNN attempts to reach Rutgers University, Pernetti and Rice were unsuccessful Tuesday.
The athletic director spoke to WAFN's Mike Francesa on Tuesday after the video aired on ESPN's "Outside the Lines."
"There's a lot of hindsight 20/20 that will be that there was no other option than to terminate Mike," Pernetti said. "I made that decision; I'm accountable for it. I have to live with it."
Pernetti said the video was produced by Eric Murdock, a former NBA player who worked as director of player development for Rutgers' Scarlet Knights, but whose contract was not renewed.
Rice put on his best behavior whenever Pernetti would come watch practice, Murdock told ESPN. But when the athletic director turned his back, he said, the coach would became physical and degrading.
Murdock's job was terminated before the release of the video. He and his lawyers then furnished the video to ESPN, Pernetti said.
The athletic director said Murdock's job termination was due to insubordinate actions, and unrelated to the video.
However, Murdock's lawyer told ESPN that his client plans to sue the university for wrongful termination.
"Mr. Murdock was terminated for having complained of and reported illegal conduct by Mike Rice," said Raj Gadhok, the attorney.
"That is unlawful in the state of New Jersey and Eric intends to pursue legal action for his wrongful termination, which the university and its representatives have been aware of for some time now. We have no further comment at this time."
Extreme behavior shown in the clip was not necessarily the norm, former Rutgers player Frank Mitchell told CNN Tuesday.
"From time to time, there's some instances of throwing balls or physically making contact with players, but it only occurred from time to time, it wasn't an everyday type thing," he said. "Obviously, the video shows it happened, but they were isolated incidents. They weren't back to back."
Mitchell described practices as "very intense, very quick, very fast-paced."
"All coaches have the idea to push their players by keeping things very intense," he said. "As players, we were definitely trying, but it can get kind of exhausting toward the end."
The footage was only clips of several dozen hours of video from the men's basketball practices.