This is an archived article and the information in the article may be outdated. Please look at the time stamp on the story to see when it was last updated.
SAN DIEGO — Utility crews worked through the night and reopened all eastbound lanes of Interstate 8 Friday morning, about 18 hours after a major water line ruptured near Hotel Circle, flooding the freeway and opening a gaping sinkhole that blocked all lanes before and during rush-hour traffic.
"All lanes on I-8 at Hotel Circle have reopened to traffic," CalTrans tweeted at 6:17 a.m. Friday.
Water department workers capped off the broken 30-inch-diameter transmission pipeline in stead of repairing it to speed the freeway repairs.
The freeway was completely blocked for about six hours Thursday and reduced to a single lane overnight as crews repaired the ruptured line and the roughly eight-foot wide sinkhole, according to the California Highway Patrol.
NOW: sinkhole & main break repaired in Mission Valley – 8 freeway now open, other closures will be soon. @fox5sandiego pic.twitter.com/oZPs947sRB

— Aric Richards (@AricFOX5) September 15, 2017
Drivers hit their brakes, stared in awe and fired up their cell phone cameras as a plume of water began spewing about 20 feet into the air on the southern edge of I-8 near Hotel Circle South shortly after noon, according to the California Highway Patrol.
The surge from the failed transmission pipeline soon excavated a sinkhole about eight feet wide in the roadway, forcing a closure of all eastbound lanes in the area.
The CHP also shut down all on-ramps and connectors leading to the flooded stretch of freeway.
With traffic backing up heavily for miles around, authorities directed the stranded motorists to turn around and double back on the southern shoulder, then exit at Taylor Street.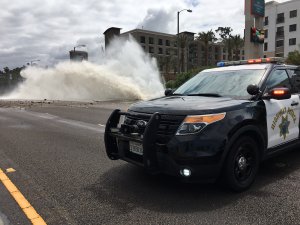 Utility personnel had the overflow halted by 3:30 p.m., city spokesman Arian Collins said. About 2 1/2 hours later, the CHP and Caltrans reopened two of the four eastbound lanes in the area. By 10:30 p.m., the southbound and northbound I-5 connectors along with the Nimitz, Mission Bay Drive and Sports Arena on-ramps to eastbound I-8 reopened.
Crews were forced to shut down water to some nearby hotels on the north side of I-8. As of 10 p.m., guests at the Crowne Plaza said the water had still not been turned on.
Three other water pipe failures happened along Morena Boulevard a short time before the massive geyser erupted on the freeway, and city officials said they may all be related.
"We're not sure exactly, but our theory is that it's related in some way.  One probably triggered another. The change in water pressure probably just triggered one right after another," Water Department spokesman Arian Collins told FOX 5. "Once we do the investigation, we'll probably have a better idea, but at this point, it looks like they're all related in some way.