This is an archived article and the information in the article may be outdated. Please look at the time stamp on the story to see when it was last updated.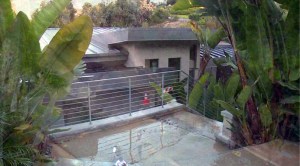 SAN DIEGO — A water main break flooded a La Jolla street early Friday.
The break in the 7000 block of Country Club Drive was reported at 5:18 a.m., according to San Diego police Officer Frank Cali. The roadway was expected closed all day while crews dug down to replace the pipe and repaired the roadway.
The road is on a hillside behind the La Jolla Country Club. Water flooded the basement of at least one home in the neighborhood, but repair crews shut off water before it posed a landslide danger, officials said.
About 20 homes were left without water service. Crews said they hoped to finish repairs and reopen the street to traffic by about 4 p.m.