This is an archived article and the information in the article may be outdated. Please look at the time stamp on the story to see when it was last updated.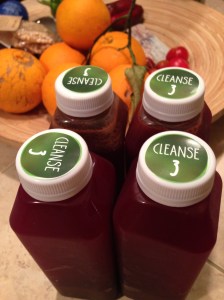 After indulging a little too much on vacation and then Super Bowl weekend, I decided a juice cleanse would be a great way to clean out the system and jump start my diet (my wedding is 7 months away).
The diet is a 3-day "all juice" cleanse and it was the first time I'd ever done this type of cleanse. So far so good!
I think the toughest part was going trying to do a really tough workout with so few calories in my tank. I drove down to my favorite juice spot, Juice Nation in Solana Beach. The folks there recommended yoga or light exercise so I planned on trying it, but as an avid runner and Crossfitter, I knew that's not going to last long.
JUICE CLEANSE DAY 1
The toughest part was the morning. I always wake up at 3 a.m. and grab a coffee at 4:30 a.m. on the nose (that's when Starbucks opens near the TV station). On the juice cleanse there's *no coffee – yikes! Since it's only 3 days, I figured I could easily do it. I'm not addicted to coffee, nor do I have a second cup throughout the day, so I didn't have any caffeine headaches or any symptoms. I just simply love enjoying a piping hot coffee in the morning.
My second challenge came around 9 a.m., when my TV segments where in a grocery store doing a food demo. The food smelled so good, and then of course the chef wants to know, "why aren't you trying any of my tacos?" To which I respond, "I'm doing a juice cleanse". Well, you can imagine the look I got from the chef – haha! I managed to get back to the TV station without taking a bite and was able to pop open my second bottle for the day.
The rest of the day, I kept busy with chores and a hot yoga class, and sipping on my juice every 2 hours in between. I think the key was drinking lots of water and going to bed early.
DAY 2
No coffee is no bueno on a morning show shift! This was such a challenge, probably the toughest. I managed to get through an energetic day of work. Logged 4 miles and an hour Crossfit class at Crossfit 2120 in Del Mar, and slept like a baby! One thing I'm noticing about the cleanse was my sleep. I've never slept better, and when I woke up, I felt good.
Added note: my stomach felt settled as opposed to a little sour (which can happen when you have to wake up at 3 a.m.) Oh, and what girl doesn't like seeing the scale drop! Three pounds in 24 hours – whoa! I'm pretty sure it's "water weight." Now one more day to go!
DAY 3
The last day was actually the easiest! I had a 7 mile training run with a friend and a busy work day. I drank my juices as instructed – still looking forward to coffee. Once again, slept sooooo good! And I actually had one of the fattest run times I've had in months! Crazy how the juices gave me fuel. I won't recommend doing this for a long period of time on a limited amount of calories, but for me it was just 3 days, so I was doing just fine.
All in all, the cleanse did exactly what it was designed to do. It kick started a clean eating habit for me, it helped me dropped a little vacation weight and literally helped me clean my tank.
Ladies…7 pounds in 3 days! If that's not motivation to keep going in the right direction, then I don't know what is. To wrap up my experience, I have to admit, the juices on all three days tasted amazing! I would highly recommend Juice Nation if you want to flush your system and jump start a clean eating regiment.