This is an archived article and the information in the article may be outdated. Please look at the time stamp on the story to see when it was last updated.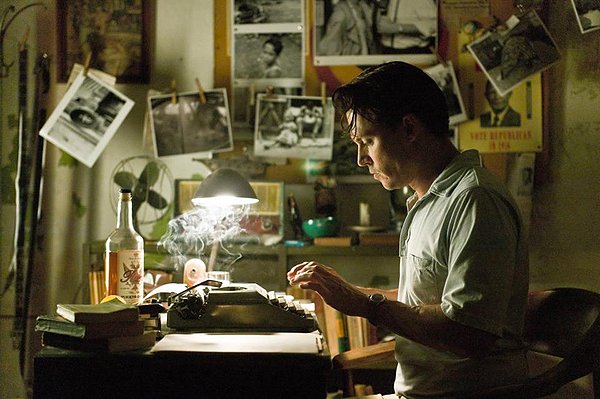 I liked this movie, but it's one of those rare films I like and can hardly recommend to my friends. You either have to be a fan of Hunter S. Thompson or madly in love with Johnny Depp, to really appreciate this. That being said, I was never that big a fan of Thompson. I found his gonzo journalism style to be overrated.
Depp, who played him previously in Fear and Loathing in Las Vegas, as well as putting together the funeral that shot his ashes into the sky – is the main reason this novel got to the big screen. Nobody wanted to publish the book, until Depp found it while hanging out with him. Most Thompson fans don't regard it as anything special. Perhaps Depp called upon Bruce Robinson to write and direct this, since his mid-80s cult film Withnail & I seems like the alcohol fueled type of thing Thompson could've written.
I wasn't a fan of Fear and Loathing, but thought Depp did a great job playing Thompson. I think it was wise to have him underplay the impression. Sometimes it can be distracting when an actor is doing the exact voice. I think about Will Ferrell in the enjoyable Woody Allen movie Melinda and Melinda. He sounds so much like Allen it distracts.
This story has Depp as a young writer, arriving to work at a newspaper in Puerto Rico. The job interview (with the always reliable Richard Jenkins), has one of many great lines you'll hear in the film. Jenkins asks "How much would you say you drink?" Depp replies "On the upper-end of social."
When Depp is wacked out on acid and Michael Rispoli's (Kick-Ass) tongue keeps getting longer and longer, Depp says it's a "tongue like an accusatory giblet."
Other lines I think about now as I write this that crack me up: "they raped him to death," "bring forth the fowl," and while covering local bowling alleys, Depp mentions the American tourists being "beasts of obesity."
Giovanni Ribisi (Avatar, Boiler Room) always takes interesting parts, and his Hitler loving drunk is off the charts bizarre.
Aaron Eckhart plays one of the "bastards" that try to manipulate Depp. It's a role Eckhart could do in his sleep. There's a scene where he scolds Depp for bringing Rispoli to his boat that seems very realistic.
The cast is rounded out by the curvy and beautiful Amber Heard. Imagine her placing her hand on your leg to get you to drive faster in a red-and-white '59 Corvette.
I enjoyed the fact that the various acid trips and drinking binges weren't over-the-top. We got our fill of that in Fear and Loathing. This doesn't mean we aren't treated to hilarious conversations when these guys are in a drunken stupor. One claims to have an alcohol that is "470 proof." Depp argues there is no such thing, but quickly becomes more interested in a drug that you let drip into your eye (which he's told is so secret, the FBI is giving it to Communists).
When you look at this motley bunch, that always seem to be sweating, it reminds you of that BBQ you were at one afternoon and everybody drank too much in the afternoon sun. Conversations got weird, and maybe you got sick…but when you talk about that event today, you have fond memories of it.
My favorite goldfish scene in a movie is Kevin Kline swallowing them in A Fish Called Wanda; but watching a dehydrated Depp, with a crappy apartment and no running water, drink from a bowl that has a fish swimming around – is a close second.
This movie lacks a real dramatic narrative, and much like In Time – it at times, becomes a civics lesson. It's all over the map, but I found the atmosphere and cast made up for the flaws. And watching it while nursing a hangover from a Halloween party – seems the perfect way to view a Hunter S. Thompson piece.
It gets 3 stars out of 5.