This is an archived article and the information in the article may be outdated. Please look at the time stamp on the story to see when it was last updated.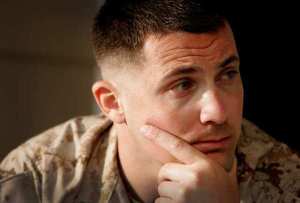 A military appeals court Wednesday tossed out the high-profile conviction of a Marine from Camp Pendleton for the killing of an unarmed Iraqi man in 2006 in Hamandiya, west of Baghdad.
The Court of Appeals for the Armed Forces ruled that Larry Hutchins was improperly denied a lawyer when investigators in Iraq first began to question him about the killing. He was put in solitary confinement for seven days, according to his lawyer, Babu Kaza.
"At that point he broke and informed NCIS (Naval Criminal Investigative Service) that he would give them what they wanted," Kaza said.
The government could appeal the decision to the Supreme Court, or the Marine Corps could seek a new trial.
But Kaza believes Hutchins will instead  be freed soon from the brig at Miramar Marine Corps Air Station in San Diego.
He has served six years of an 11-year sentence for unpremeditated murder, first at the prison at Ft. Leavenworth, Kans., and then at the Miramar brig to be near his family in Oceanside.
Seven enlisted Marines and one Navy corpsman from Camp Pendleton were convicted at court-martial in the Hamandiya killing. As the squad leader, a sergeant, Hutchins received the longest sentence. All of the others are now freed; none served more than 18 months.
The plan to drag an unarmed Iraqi from his home and kill him was developed as a warning to other Iraqis not to attack Marines with sniper shots or buried roadside bombs. In the months after the killing of the 52-year-old retired Iraqi police officer, attacks on Marines in the region dropped.