This is an archived article and the information in the article may be outdated. Please look at the time stamp on the story to see when it was last updated.
SAN DIEGO — Officials with the San Diego-based Challenged Athletes Foundation, reacting Monday to the death of Robin Williams, recalled how the actor helped the organization gain prominence.
The star regularly appeared at events during the foundation's formative years, according to Bob Babbitt, a founding member, and Virginia Tinley, the executive director. The CAF supports disabled athletes, many of them wounded military veterans.
"[Williams] really had a genuine respect for the challenged athletes that he met at the triathlon. He was a guy that liked sports and liked getting out there and participating in them… Robin is genuinely a very giving, warm person. Very humble. [He was] relatively quiet in normal situations, but a brilliant comic and certainly when he needed to turn on that comic streak, he would be hilarious," Tinley recalled.
For the last 11 years, Williams took part in the annual San Diego Triathlon Challenge. He was a member of a relay team named "Team Braveheart." Tinley said Williams was the cyclist, Scott Tinley ran, and 8 year old double amputee, Rudy Garcia-Tolson, swam.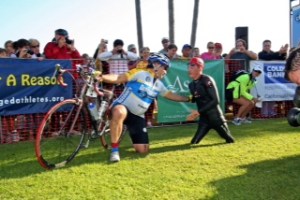 "Robin and Rudy got to be very close. Over those 11 years that Robin came out and participated, he watched Rudy grow up and they really developed a very close friendship," Tinley said.
Tinley said that the foundation had an event planned this weekend in Sausalito, and the actor had said he planned to attend.
"We've been so lucky to have Robin Williams involved as a spokesperson and a representative of the Challenged Athletes Foundation," Tinley said.
She said Williams, an avid bicyclist, first attended the foundation's triathlon in 1998 and was "blown away" by the accomplishments of the competitors. He later took his teammate, double-amputee Rudy Garcia-Tolson, on to Oprah Winfrey's television show.
According to the Marin County coroner's office, paramedics responded to Williams' home in Tiburon around noon after receiving a 911 call about an unconscious person. The 63-year-old actor was pronounced dead at the scene.
Coroner's officials said investigators believe "the death to be a suicide due to asphyxia, but a comprehensive investigation must be completed before a final determination is made." Williams' publicist, Mara Buxbaum, issued a statement saying Williams had "been battling severe depression of late."